Nano CR – REGIUS Model 110
Meet the compact yet mighty Nano CR – REGIUS® Model 110/110HQ* The high-performance single-bay CR reader that delivers speed to give you an efficient workflow with the reliable, high-quality imaging that you'd expect from a leader in digital X-ray. Designed to satisfy a broad range of needs – from hospitals to private practices – the Nano CR offers flexible configuration options to help you get the most from your digital X-ray investment. The Control Station is based in CS-7/Windows 10 software.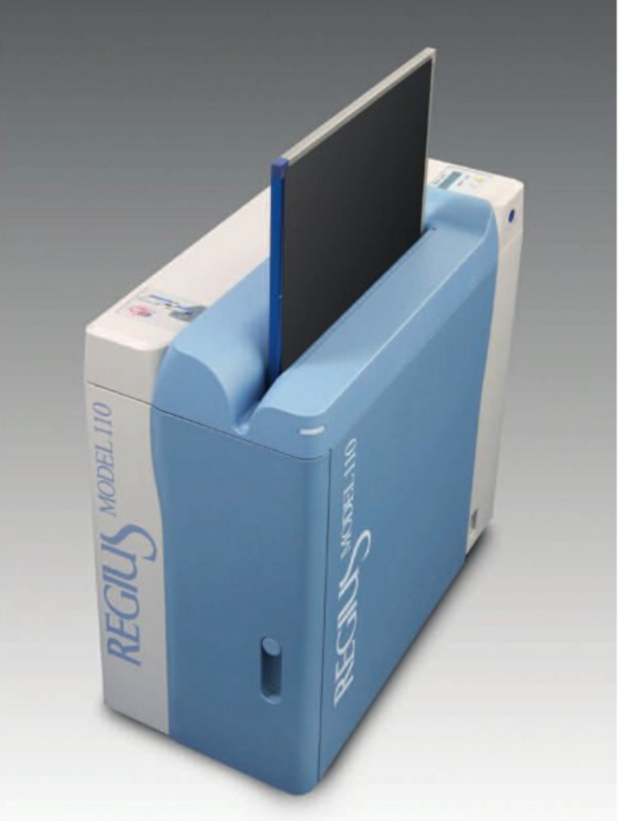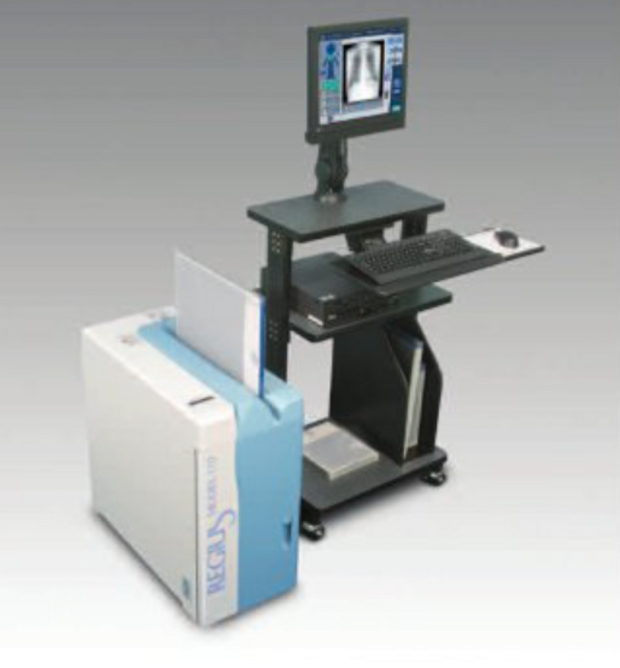 Improve your productivity
You'll experience faster patient turnaround time and improved workflow with Nano CR - a high performance single bay Computed Radiography system that can process up to 76 plates an hour (14" x 17"). Its touch screen control station provides you with intuitive software tools for generating superior image quality with a few easy steps. This compact, single bay reader is designed with dependable, high-quality components to ensure system reliability.
Satisfies a wide range of needs
Whatever your environment – from large hospital facilities or imaging centers to stand-alone clinics, private practices or surgery centers – the Nano CR's variety of system configurations will satisfy your needs. Whether it's networked with another Nano CR or the AeroDR® system, Nano CR delivers speed, workflow, and redundancy.
Compact, yet powerful
Useful if you're limited on space, the Nano CR features an astonishingly compact design with a footprint of only 0.27 m2. What's more, it delivers processing performance of up to 76 plates/hour, achieving a high-speed processing cycle of up to 47 seconds/plate.
Other Nano CR features:
Linear Motor Technology for a smooth plate transport mechanism.
Realism™ Hybrid Image Processing increasing dynamic range to provide more depth/definition
Two resolutions are available. In addition to the standard resolution, Nano CR is capable of a high resolution of 87.5 µm, which provides diagnostic quality images where recognition of subtle pathological changes is essential, such as special extremity and pediatric applications.
Flexible Placement Options – operation panel location is adjustable at the user facility. The two way setting method allows selection of two patterns of layout depending on the facilities space limitations. Nano CR is adaptable to a variety of environments, and with its small footprint is the ideal solution for any facility where space is at a premium.
Entirely simple, comfortable operability – Nano CR allows for easy operation with the simple installation of an exposed cassette. The height of the cassette slot is 710 mm.
Konica Minolta understands that in today's healthcare environment facilities need solutions that provide economic value. The Nano CR can use existing cassettes* as exposure cassettes.
*REGIUS 110 available in USA and Canada. REGIUS 110HQ available in Latin America.
Get in touch about Nano CR – REGIUS Model 110