Blessing is among first providers in nation to offer specialized X-ray technology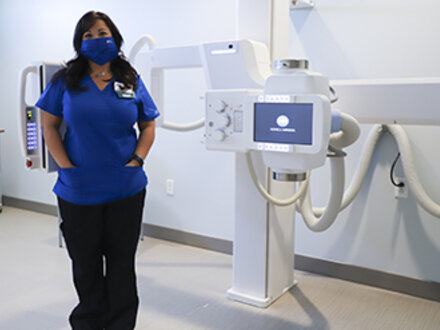 Patients who used to travel hundreds of miles for specialized imaging can now get it in Quincy at the Blessing Health Center.
Blessing is the third provider in the country to offer Dynamic Digital Radiography (DDR), the next evolution in imaging. DDR gives clinicians the ability to see what they have not been able to see before with other types of medical imaging.
A standard X-ray takes a still image, similar to a photo, while a patient is standing still or lying flat on their back. DDR takes a series of still images at a very fast speed and with a low radiation dose while the patient is moving in the way that causes them pain, to create a cine loop, or video. With DDR, doctors can view a patient's full range of motion in joints, tendons and ligaments in their extremities, neck and spine. This capability provides immediate information for diagnosis, surgical planning and treatment follow-up, resulting in more individualized patient care.