Musculoskeletal Ultrasound Workshop Series: Foot/Ankle Diagnostics and Injection Procedures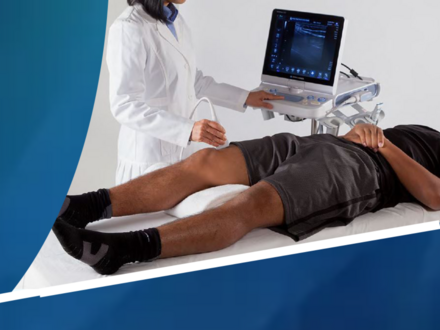 A combination of didactic materials, videotaped examples, and a simulated demonstration.
Hands-On and Virtual Workshop
In partnership with Dr. Todd Stitik, Konica Minolta Healthcare Americas will be hosting a series of workshops within the Musculoskeletal Workshop Series.  The workshops will be a combination of didactic material specific to these injection procedures, actual videotaped examples of injection procedures (many of which are picture-in picture – show the probe/patient/physician positioning in one picture and the actual real time ultrasound Image in the other picture) and a simulated demonstration on a scanning model of the injection procedure set ups, Time will be provided for question and answer including repeat demonstration of an injection set up.
Todd Stitik is a Professor of Physical Medicine and Rehabilitation. His primary clinical interests include musculoskeletal ultrasound,  osteoarthritis and image-guided injection procedures.
Foot/Ankle Diagnostics and Injection Procedures
Identify IA ankle; extensor tendons; talonavicular joint; 1st MTP joint; ATFL PRP; Subtalalr joint; Peroneal tendons; cuboid tunnel; Sinus tarsi; Tib-Fib ligament; Peroneal nerve at "knife edge" and crural fascia; Sural nerve; Posterior tibial tendon; Tarsal tunnel; Calcaneal branch tibial nerve; Tibial nerve block;
Baxter's nerve; Achilles tendon; Retrocalcaneal bursa; FHL tendon; Plantar fascia; Plantar fibroma; Heel pad; Knot of Henry; Intersection Syndrome; Morton's neuroma; Intermetatarsal bursa; Plantar plate
Review videotaped examples of actual injection procedures in order to be able to identify IA ankle; extensor tendons; talonavicular joint
Improve skill in foot and ankle diagnostic and simulated injection procedures by participating in handson small group scanning
Fees
Below is all of the pricing information for the event.
Non-Member Trainee
$59.00
Paid Society of PM&R Member
- Physician
$99.00
Paid Society of PM&R Member
- Trainee
$49.00
*Note: All cancellation must be made in writing to km.marketing@konicaminolta.com. All cancellations made 48 hours prior to the event will receive a full refund